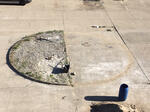 W E C H S E L R A U M
---
W E C H S E L R A U M ist ein interdisziplinäres, kollaboratives Projekt von Studierenden der Weißensee Kunsthochschule Berlin und Ulrike Mohr. Während der gesamten Ausstellungsdauer von 11 Stunden wird ein permanenter Transformationsprozess stattfinden. Die vorhandene Materialität eines definierten Halbkreises im Außenraum ist Ausgangspunkt für die gemeinsame Beschäftigung
mit aktuellen Zeit- und Raumphänomenen.

W E C H S E L R A U M is an interdisciplinary, collaborative project by students of the Weißensee Kunsthochschule Berlin und Ulrike Mohr. During the entire exhibition of 11 hours, a permanent transformation process will take place. The existing materiality of a defined semicircle outside is the starting point for the common engagement with current time and space phenomena.

Teilnehmende // participants: Isu Donggeon Kim, Jian Langjie, Wiktoria Łaskawiec, Marie Lempelius, Lara Rocho, Marina Resende Santos, Olga Shalashova, Coline Rousteau, Manuel Strube, Susanne Weber-Lehrfeld, Ulrike Mohr.

Zeit // Time:
Sonntag, 11.07.2021 // Sunday, 07/11/2021

Eröffnungen // openings:
Sun, 11 Juli : 11am, 12am, 1pm, 2pm, 3pm, 4pm, 5pm, 6pm, 7pm, 8pm, 9pm, 10pm

Finissage: 10pm

Ort // Location:
"Schrödinger Katzen", Halbkreis vor dem Plattenbau
"Schrödinger's cats", semicircle in front of the vacant prefab.
S C H E D U L E
10:30 – Opening with Ulrike Mohr
11-12:00 – Manuel Strube
12-13:00 – Wiktoria Łaskawiec
13-14:00 – Marina Resende
14-15:00 – Susanne Weber-Lehrfeld
15-16:00 – PAUSE
16-17:00 – Lara Rocho
17-18:00 – Isu Donggeon Kim
18-19:00 – Coline Rousteau
19-20:00 – Marie Lempelius
20-21:00 – Jian Langjie
21:00 – Finissage